Geopolitics of Technology
During this year's GTS, we will emphasize the momentum surrounding digital public infrastructure (DPIs) and engage in discussions regarding their design choices and adoption strategies. We will also deliberate on the economic case for DPIs. Additionally, we will delve into the use cases of artificial intelligence (AI), considering the evolving regulatory landscape and issues such skilling and innovation, and the military applications of AI.
In The News
Testimonials
I believe that the lessons I've learnt here will last me a lifetime. I think the most important lesson I've learnt here is that people from different domains should come together and discuss challenges. The GTS offers us a platform where technology can meet policy makers and technologists can get a better idea of what problems they face ahead as well as allow policy makers to help drive technology change and promote it throughout the world.
Reijul Sachdev
GTS Young Ambassador
I think official forms of dialogue are constrained because there are certain agendas and outputs to be derived from those. This means that informal ways of engaging with those same stakeholders, across countries, is helpful. And a summit like this really helps with that. What you can't do with official dialogues, you can do with a summit like this, where different countries and different levels of officials come in and have an open exchange of ideas.
Awais Ahmed
Founder and Chief Executive Officer, Pixxel
I think the topics we're covering at GTS are incredibly important. We discussed things like digital currencies, artificial intelligence. I think it's important to bring together industry, government, and researchers in these conversations and that can only happen in-person. So, I'm grateful for the opportunity to come here not only to listen to fantastic panels but also to help with a number of really exciting side conversations.
Samantha Hoffman
Senior Analyst, Australian Strategic Policy Institute
I have not missed a single Global Technology Summit. Getting intellectual conversations going between people who have different points of view and then allowing those conversations to be represented in a format where everyone can attend, listen, and even participate is extraordinarily important at this time when there are so many different points of view that exist in the world.
Rahul Matthan
Partner, Trilegal
It's been a brilliant series of panels, meetings, individuals, and conversations particularly on the eve of India's G20 presidency, to think about the collective spaces around new frameworks for digital cooperation. It's really been a fantastic summit that's brought together technologists, policy makers, government, and multilaterals. What an enriching discussion to be a part of.
Keyzom Ngodup Massally
Head of Digital Programmes, Chief Digital Office, United Nations Development Programme
I've had a great experience at the GTS. I think it's an interesting opportunity to engage with stakeholders across the industry, non-governmental organizations, and governments as well. I think that it's a critical summit to be able to engage on issues of geopolitics and how these impact technology companies in the 21st century.
Colin Reed
Global Intelligence Manager, Salesforce
The Global Technology Summit is a great platform to get people from around the world to think about how technology can be an enabler. The problem is so large that no single entity or no single country can solve for all we need to solve for. This platform provides a great way to exchange ideas and think about what we can do together to get something better done.
CV Madhukar
Chief Executive Officer, Co-Develop
The sophistication that Carnegie and the participants have taken to thinking about issues of technology, policy and innovation has been really exciting. I've learned a lot from the discussions around Al ecosystem in digital payments, and the broader ecosystem. Our ambition at Facebook is to partner more closely with the ecosystem here and I am really excited to learn more about the opportunities to do that.
Rob Sherman
Vice President & Deputy Chief Privacy Officer for Policy, Meta
Thank you so much for enabling this engagement. The summit has been very well received at all levels in FCDO and the quality of interactions throughout have been really insightful and appreciated.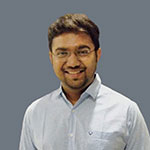 Nimesh Shah
Manager - Energy Transition and Decarbonization, EY
This summit actually brings quite a lot brilliant minds together. I have gone after a couple of opportunities with partners that I've met in the Global Technology Summit. I look forward to working together with bright minds, because I think these bright minds are working for the right problems that face our country.
Nivruti Rai
Country Head Intel India, Vice President Intel Foundry Services, Intel Corporation
This has been an absolutely eye-opening experience for me. It's made me rethink the models that I use, and my own mental model about how the world is going to develop and try to find a place for these new technologies that I have been exposed to and try to understand how these might play out.
David Bohl
Data Science Lead, BLISSWAY
I am extremely happy that Carnegie has been conducting the Global Technology Summit. There is a lot of interaction, and the discussions give me more and more incentive to revisit the issues related to law and technology.
B. N. SRIKRISHNA
Retired Supreme Court Judge
I want to thank you, and the CEIP team for inviting me. It was a great conversation to be part, and a learning experience for me. Allow me to congratulate you for your success in organizing this event.
Pritam Banerjee
Consultant, Asian Development Bank
It was a pleasure being part of the prestigious event. Congratulations to you and your team to successfully pull through such a high-level event. Thoroughly enjoyed some of the sessions that I was able to participate. It was good to be back in the conference room and be able to engage with people.
Udai Mehta
Senior Manager, Amazon
What I am impressed by looking at agenda of the Global Technology Summit is how many subjects it covers. The whole plethora of discussions covering how these new and disruptive technologies can be put to use is quite impressive, and I am sure it will add to the national and international understanding.
LATHA REDDY
Co-chair of the Global Committee on the Stability of Cyberspace & Former Deputy National Security Advisor of India
It was my pleasure to participate in the GTS. It was an excellently organized event with richly designed sessions on topics which reflect real big issues of the day. The cast of speakers was also fabulous. Will be happy to associate with Carnegie and events like this in future as well.
Subhash Chandra Garg
Strategist (Economics, Finance, and Fiscal Policy)
This is the one platform that seriously discusses the policy dimensions around technology. In the past, technology was completely orchestrated, controlled, and regulated by the government such as space, and nuclear technologies. Today's digital technologies is where the private sector is playing a dominant role and the government is grappling with how to regulate it. And this is a forum which allows the private sector and the government policy makers to understand where the challenges are and allow India to lead the way.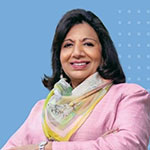 Kiran Mazumdar-Shaw
Executive Chairperson, Biocon Limited and Biocon Biologics Limited